Rotoclear
C Basic vs.
Rotoclear C2
The differences between the two camera systems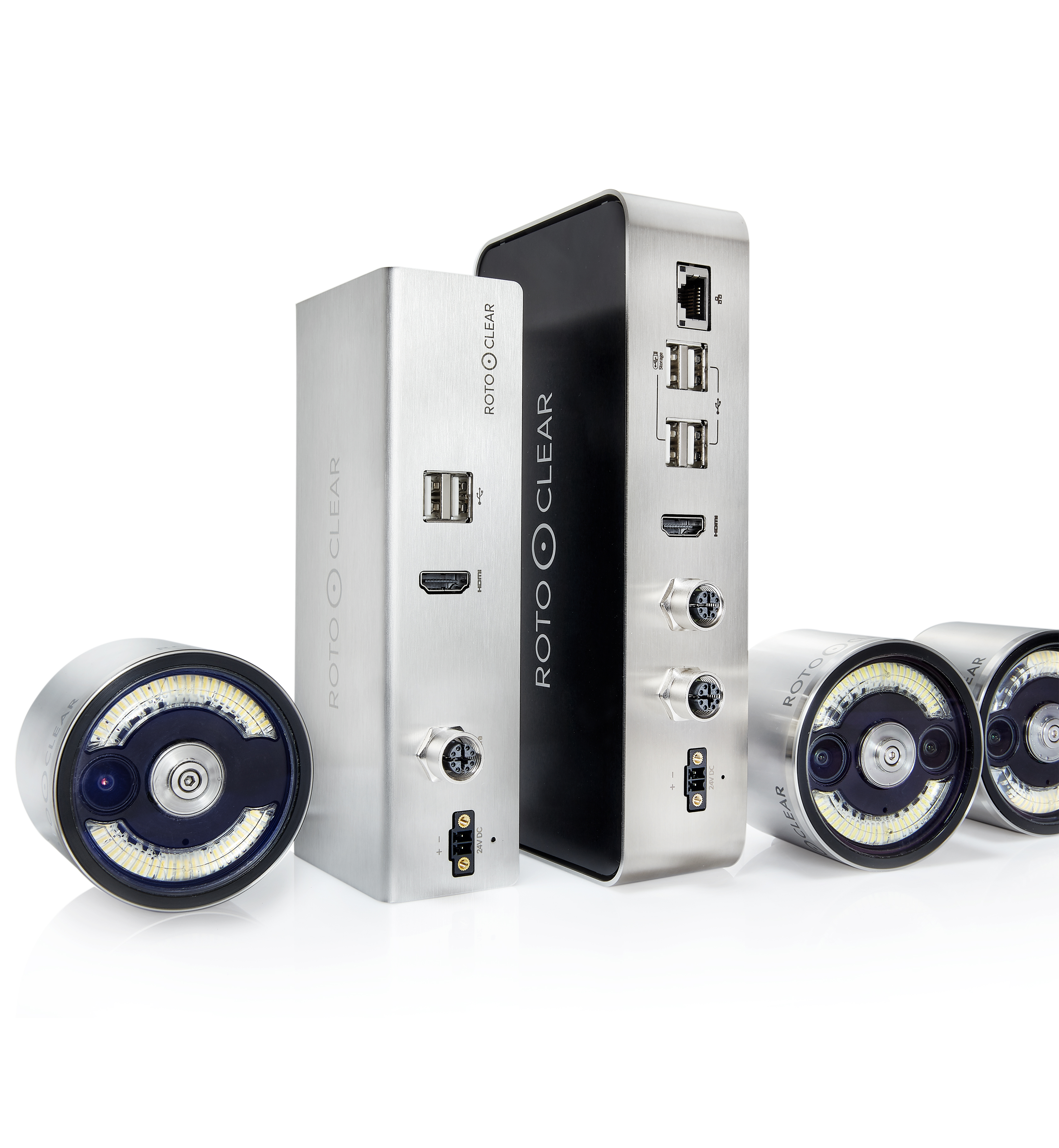 The Rotoclear C Basic is the basic version of the Rotoclear C2. At the same time, the system offers the possibility to easily upgrade to the full version of the Rotoclear C2 at any time - and thus to expand the functional range of the camera system accordingly.
All that is required is to replace the HDMI box of the Rotoclear C Basic with the control unit of the Rotoclear C2. The camera head, holder, sealing air supply and data cable can still be used.
We have summarized the range of functions offered by the two systems for you here.
Features
Rotoclear C Basic
Rotoclear C2
Number of perspectives
Only one camera head
possible
One or two camera heads selectable
Depending on the system, you can observe machining processes from one or two perspectives simultaneously.
Type of perspectives
Top View or Side View typical
Top, Side or Tool view possible.
The cameras can be installed on the ceiling of the machine interior (Top View), on the wall (Side View) or directly on the spindle (Tool View).
Tool View also possible
Focus options
The encapsulation to protect the camera heads imposes a fixed focus.

However, you can choose between lenses with different focal lengths.
F1: 200-500 mm
(close range)

F2: 500-3000 mm
(far range)
F1: 200-500 mm
(close range)

F2: 500-3000 mm
(far range)

F1+F2: 200-500 und 500-3000 mm
(Camera head with two lenses for close and far range)
Lens
Wide angle
Wide angle
A wide-angle lens is installed as standard, which is perfectly suitable for most applications.

Alternatively, lenses with longer focal lengths can be installed.
Aperture: f 2.0
Focal length: 3.9 mm

Field of view of 96° horizontal and 50° vertical
Aperture: f 2.0
Focal length: 3.9 mm

Field of view of 96° horizontal and 50° vertical
Rotating window for clear view
A fast spinning window in front of the lens always provides a clear view of your machining processes where it would otherwise be obscured by coolant and chips.
Resolution
4K
4K
The camera systems can produce images in a resolution of up to 4K.
The resolution during observation depends on the monitor and, in the case of the Rotoclear C2, on the transmission rate.
HDMI
4K in 60 and 30 fps
FullHD and HD in 60 fps
HDMI
4K in 60 and 30 fps
FullHD and HD in 60 fps

Web
4K, FullHD and HD each in
60, 30, 15, 10, 5 or 1 fps
Zoom
Both systems offer 3x zoom with movable section of the image area. Easy to operate by mouse and touch.
High-performance light
Perfect illumination of the observed machining processes
Streaming
Real-time streaming on site
Real-time streaming on site
Streaming via web interface
The Rotoclear C Basic is designed for local transmission of image data only. With the Rotoclear C2, you can observe your image data from anywhere in the world.
Stream can be watched locally on an HDMI monitor.
Stream can be watched locally on an HDMI monitor.

Stream can be watched from anywhere via web interface, http, RTSP.
Remote Insights
With the Rotoclear C2 you can look into your machine on a network from anywhere in the world
Intuitive user interface
The user interface of the Rotoclear C2 allows you to intuitively control all important parameters of the camera.
Connectivity
HDMI
HDMI, Ethernet
The two systems offer a different number of connection options, which affects the transmission options and network capability.
1 × Camera head
2 × USB
Power supply 24 VDC
2 × Camera head
4 × USB
Power supply 24 VDC
http Stream
RTSP Stream
Photo & Video Recording
With the Rotoclear C2 you can also capture and save recordings.
Aufnahme bis FHD 60fps

on USB stick, USB hard disk or network drive possible
Share recordings
With the Rotoclear C2 you can download and send the images directly to the end device in the web interface.
Network capability
1 × 1 Gbps Ethernet port, NTP protocol, stream via http and RSTP
Media Gallery
The media gallery of the Rotoclear C2 allows you to always keep track of all images and videos
Filter option according to file type and age of recordings
Software updates
New functions, optimizations and extension modules are made available via online update or download.
API interface *
Via the Websocket API interface you can control your Rotoclear C2 camera(s) directly from your system.
* Available as additional software module
read more

read more