Rotoclear S3:
Technology leader in the segment of self-cleaning spinning windows.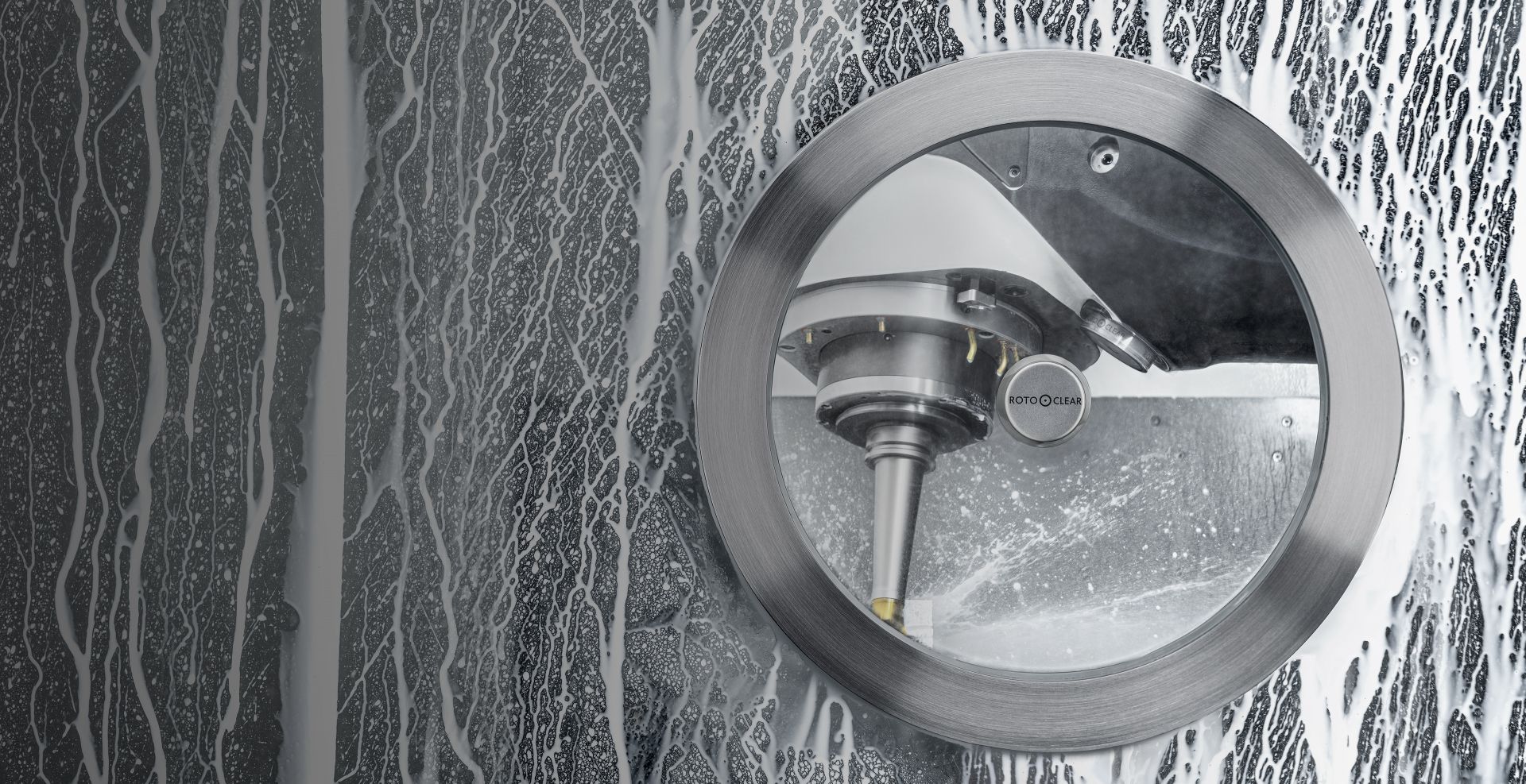 The Rotoclear S3 employs centrifugal force to create a permanently clear view of machining processes. Its clever design makes it the world's only self-cleaning spinning window to offer unobstructed views, without an irritating bar to get in the way.
Dieser Inhalt eines Drittanbieters wird aufgrund Ihrer fehlenden Zustimmung zu Drittanbieter-Inhalten nicht angezeigt.
What the Rotoclear S3 offers you
The option of continuous visual monitoring makes start-up much easier, faster, safer and more efficient.
A clear view of your processes also allows you to minimise scrap costs, whilst the Rotoclear S3 significantly reduces the amount of time-consuming cleaning required.
The patented drive concept of the Rotoclear S3 also ensures very short maintenance times, as the rotor can be replaced in no time at all if necessary.
The features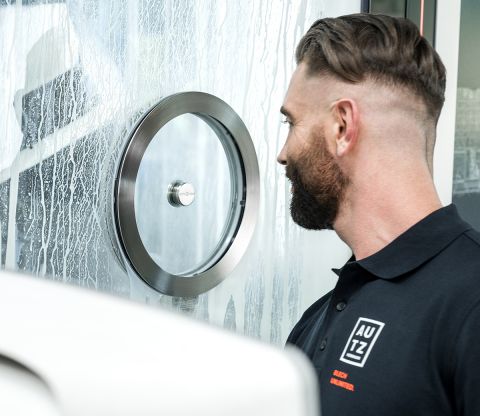 Large field of view without irritating bar
Unique the world over: the revolutionary drive concept of the Rotoclear S3 allows us to forgo the use of a bar for the cable duct – ensuring a 360° view of the tool and workpiece.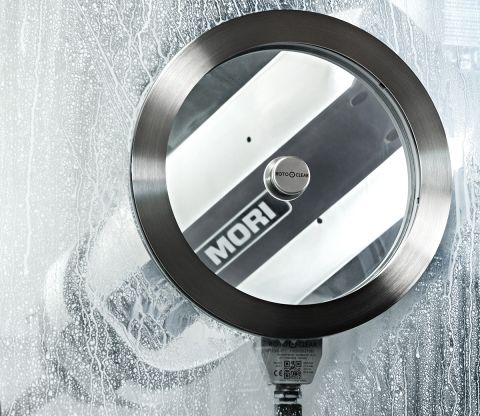 Minimalist design
Less is more: the Rotoclear S3 was designed to be simple enough to fit perfectly into the front of the machine – and thus enhance the overall aesthetics.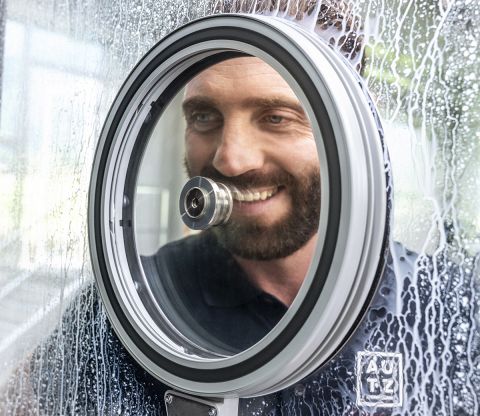 100% sealed
Optimised contours, a sophisticated labyrinth seal and the efficient use of sealing air: we continued our optimisation efforts until the S3 was perfectly sealed even with minimal sealing air.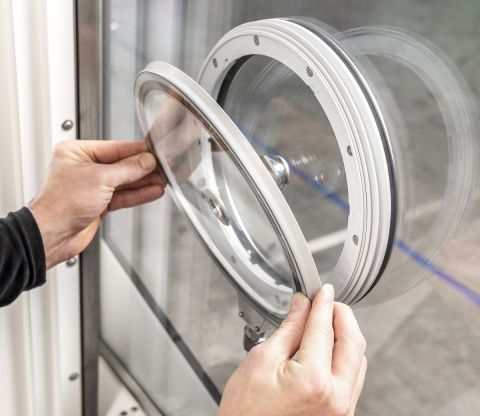 Low installation height
With an installation height of just 33.5 mm, the Rotoclear S3 can easily be integrated into all conventional door systems on the market. Despite its streamlined design, our spinning window fulfils all standard safety requirements.
Concept for quick window replacement
It couldn't be any simpler: the clever design ensures ultra-fast replacement of the machine window and rotor. Loosen just one screw, replace the machine window and then tighten the screw again. Sound simple? That's because it is.
Tried-and-tested safety for milling machines and lathes
User safety must always come first even in the harshest of conditions, which is why we have conducted ballistic tests to demonstrate the retention capacity of the Rotoclear S3 for use in machining centres and lathes in accordance with the DIN EN ISO 16090-1 and DIN EN ISO 23125 standards.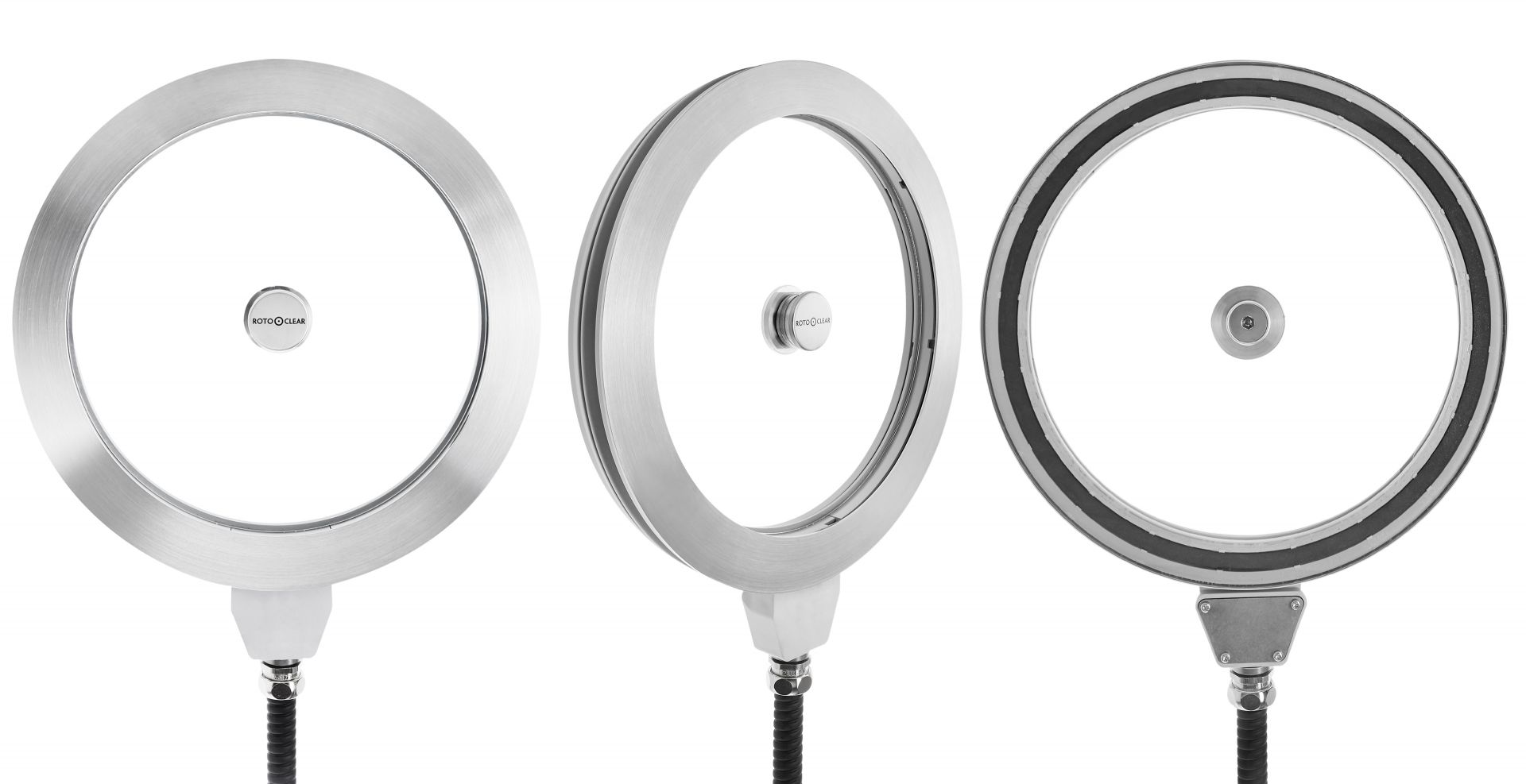 All the benefits
at a glance
Increased convenience and a better overview
The Rotoclear S3 enables convenient visual monitoring of machining activities – without the need to open any doors. Because there's no bar to obstruct the view, users always have the perfect overview of all the processes inside the machine.
The self-cleaning function also minimises the amount of time-consuming cleaning required. In short, clear views at all times, without the need for much cleaning.
Each time machine operators open the door, they put their safety at risk. The Rotoclear S3 eliminates these risks. Because there is less need to clean, users also have much less contact with cooling lubricants.
The clever design of the spinning window also plays a key role in safety for maintenance technicians: just one screw needs to be loosened for maintenance, which can be done with one hand. You can always support yourself with the other hand – and thus avoid injury from falls inside the slippery machine interior.
Basis for continuous improvement
You need to identify the relevant parameters if you want to improve something. The Rotoclear S3 provides users with valuable insights into their machining processes: key visual information as a foundation for potential process optimisation.
After all, you cannot exploit potential for improvement if you don't know where it is.
Fewer disruptions from having to open the door and a significant reduction in maintenance: the Rotoclear S3 offers you so much more than just improved visual monitoring. It also noticeably increases productivity every day.
How does installing a Rotoclear S3 significantly reduce costs over the long term? Visual monitoring reduces the number of collisions – and thus minimises scrap costs.
The option to produce with coolant from the first part also reduces material and tool costs, whilst the self-cleaning function lowers cleaning costs.
And product efficiency has been increased to minimise operating costs (most notably sealing air).
Every product needs to be serviced at some time or another. But the Rotoclear S3 was designed in such a way that a machine window or rotor can be replaced in just a few steps, so the machine can be up and running again in no time.
Maximum installation flexibility
No restrictions: the compact dimensions of just 33.5 mm increase installation flexibility, as the spinning window can also be used in smaller installation spaces.
The installation options
of the S3
Screw version
Bonding version
Special installations
Screw version
The screw version is suitable for machining centres (e.g. milling machines) in accordance with the DIN EN ISO 16090-1 standard.
This version is primarily suitable for polycarbonate windows.
It's affordably priced and offers ultra-fast installation.
Using the perforated template included in delivery, a reference circle with ten holes is drilled into the window of the machine tool door at eye level.
The spinning window is then screwed into place from the inside using a screw flange.
Bonding version
The bonding version is not only suitable for machining centres in accordance with DIN EN ISO 16090-1, but also for lathes in accordance with DIN EN ISO 23125.
The spinning window is installed on the inside of the machine tool door at eye level using a bonding flange.
A cooling lubricant-resistant two-component adhesive is pressed under the flange after fixing and ensures a secure hold.
A primer is also used when bonding to polycarbonate windows.
All the components required for installation are included in delivery.
Special installations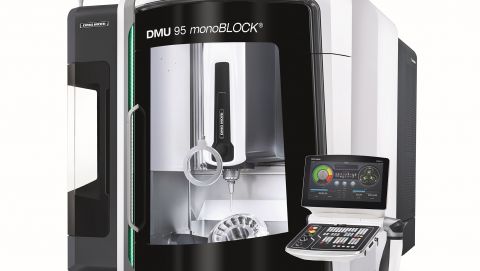 Whether the product is installed in a sheet metal wall or a curved window, Rotoclear offers a variety of tailored Rotoclear S3 solutions for special requirements, in addition to its bonding and screw versions.
Regardless of what your challenge looks like, you can feel free to get in touch with us. Together we can find the perfect solution.
Configure your optimal
S3 solution now.
Whether you're in search of a solution for a lathe or a milling machine, whether your machine window is made of polycarbonate or glass, we've developed reliable installation solutions for just about any application.
How to use:
Our downloads
Are you looking for detailed information or tips about optimal operation and maximum service life?
Our product brochure and our operating manual offer valuable answers to questions about the Rotoclear S3.
But if you should have any other questions, you can, of course, contact us directly at any time.
Looking for spare parts?