Expand your perspectives.
The Rotoclear C2:
The leading camera system for machine interiors.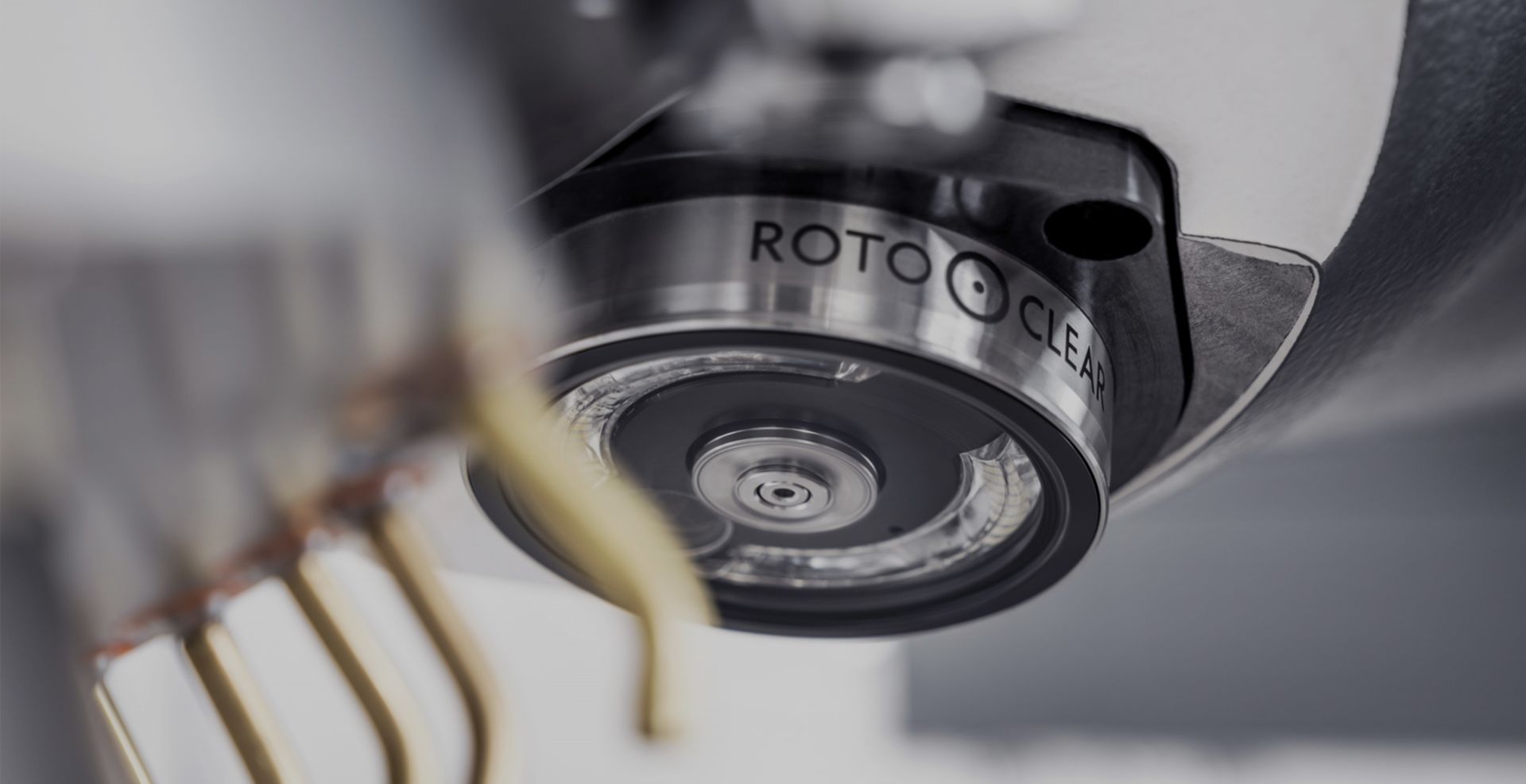 Whether you're looking for a clear view from the perspective of the tool or an overview of the machine interior, the self-cleaning Rotoclear C2 cameras create 4K views from revolutionary perspectives – even under the harshest conditions.

The intelligent system engine enables not only intuitive control with zoom feature, but also evaluation of saved videos and photos.
What the Rotoclear C2 offers you
The leading camera system for machine interiors will provide you with new information for optimising your machining processes. Of course, you can also easily share this valuable image information with others.
The Rotoclear C2 also forms the essential basis for automated image analysis – and thus for further automation of production.
The software behind it all
The clever software behind the Rotoclear C2 not only forms the basis for exact adjustment and intuitive camera control, but also offers all the interfaces necessary to stream, save and share image data with ease, including all conventional connection types (HDMI, USB, Ethernet) and protocols (e.g. TCP/IP, RTSP).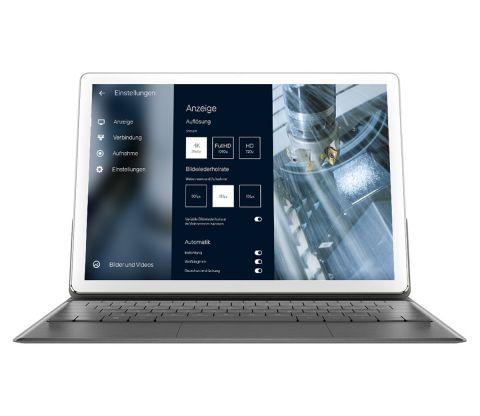 The features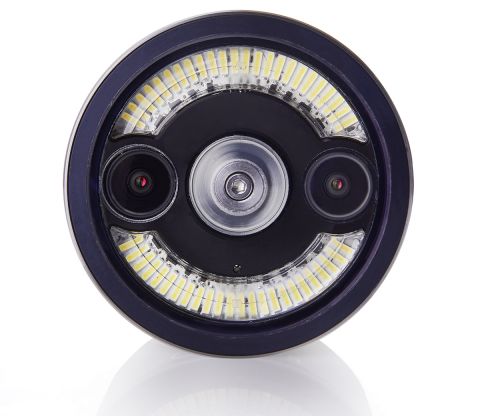 Always a clear view
The high-speed spinning window in front of the camera lens always ensures a clear view of all machining processes, even in the presence of coolant and flying swarf and shavings.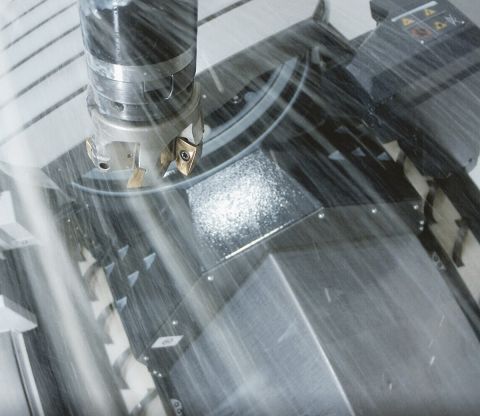 High-resolution images
The camera head provides a livestream resolution of up to 4K with 60 frames per second (recording in HD and FullHD). But the images can also be scaled down to lower resolutions and refresh rates such as HD and FullHD. In both cases, you still have crystal-clear images, even in zoom mode.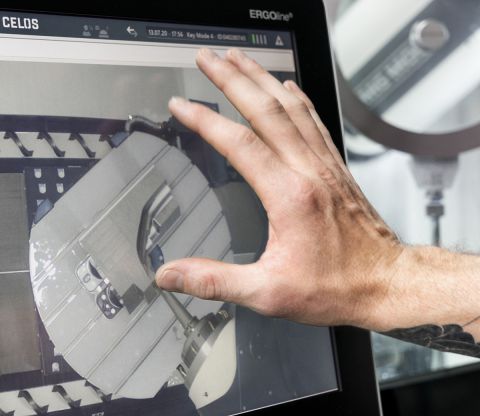 Swipe zoom
Want to enlarge an image section? It's easy: just swipe directly on the screen. Users can thus intuitively and quickly observe and analyse machining details.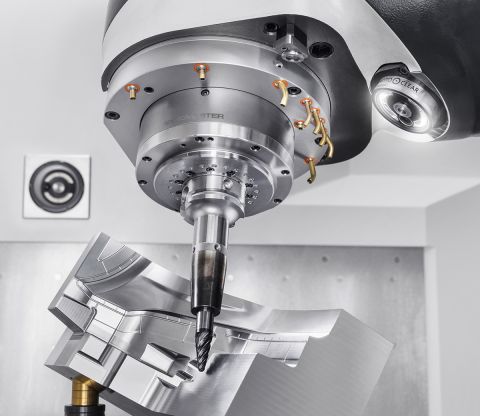 Tool, top or side view
The Rotoclear C2 cameras can be mounted at the top (top view), on the side (side view) of the workspace or directly on the motor spindle (tool view). For clear views from revolutionary perspectives.
Double the perspective
Would you like to observe the process from two different perspectives at the same time? Not a problem. If you connect two camera heads to the engine, you can observe machining, for example, from above and from the perspective of the tool at the same time.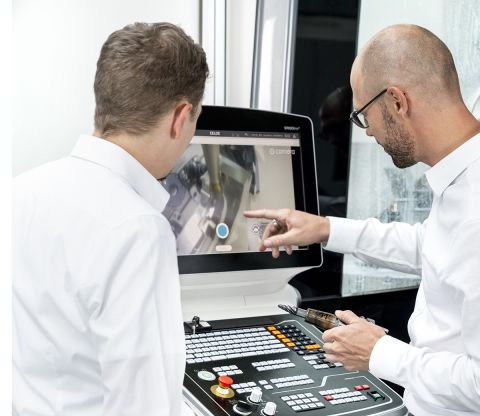 Streaming and recording
The digital image data can be streamed live via HDMI, TCP/IP or RTSP and can also be recorded in HD and FullHD at any time, making them ideal for process optimisation as well as for sales and marketing purposes.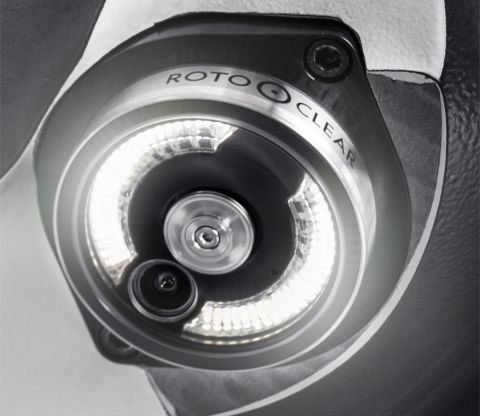 Perfect illumination
Exceptional images require perfect lighting, which is exactly why we've installed specifically developed premium Waldmann light sources in our camera heads.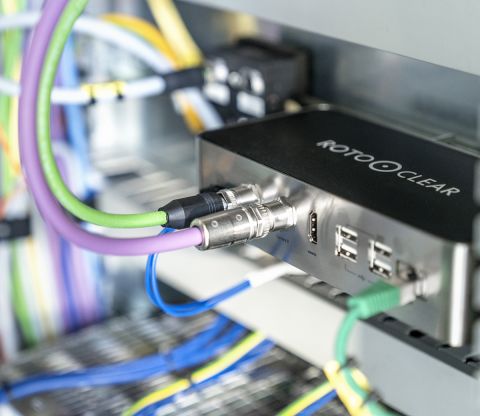 Selection of connection options
Whether HDMI, USB or Ethernet cable, our engines offer all the conventional connection options for fast and reliable transmission of image data – and integration of the system into the in-house network.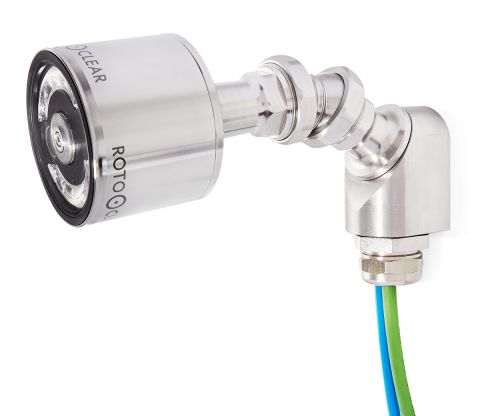 Flexible installation options
Wherever you would like to position your cameras, we offer all the options available for optimised, tailored camera setup, with numerous choices for fast and easy mounting in or on the wall (or at the top).
Foundation for analysis functions
The benefit of digital image data? They form the basis for automated analysis of machining processes. For example, processes could be automatically optimised, and tool and workpiece collisions avoided entirely in the future.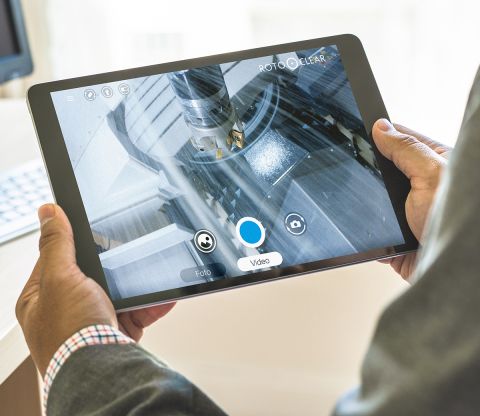 Remote Insights
Wherever you are in the world, whatever client you are using: The simple transmission allows you to view your image data remotely and flexibly at any time. The Rotoclear C2 not only enables remote analysis - it also makes process control more flexible.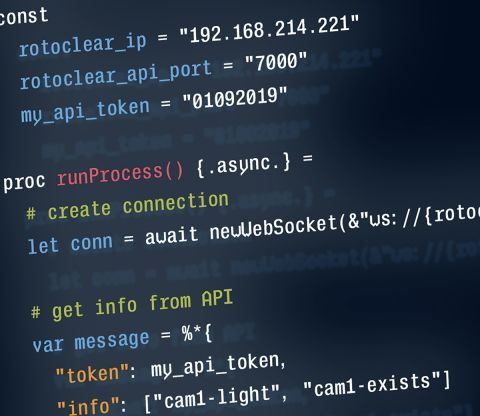 API interfaces
Do you want to implement new camera functions tailored specifically to your machine? No problem. Our API interfaces provide all the options you need to do this. For example, you can control the camera directly from your software application or automatically integrate image information into your program workflows.
Product development insights,
future prospects?
The product developer behind the Rotoclear C2, Manuel Linnenschmidt, talks about the considerations during development and the future potential of the camera system.
Dieser Inhalt eines Drittanbieters wird aufgrund Ihrer fehlenden Zustimmung zu Drittanbieter-Inhalten nicht angezeigt.
All the benefits
at a glance
Brand new visual information
The revolutionary perspectives of the Rotoclear C2 provide users with brand-new insights into the machining processes of their machine tools.
This visual information provides a foundation on which to better understand, monitor and optimise processes.
Production process communication
Transparency creates trust: share image data with customers, partners and experts with ease in order to create transparency and communicate the special features of each production process.
Basis for continuous improvement
Optimisation requires knowledge: if you want to make your machining processes more reliable and efficient, you first need to identify the potential for optimisation.
And this requires detailed visual information about the machining process – from multiple perspectives.
Digitising image data offers another key benefit: you no longer have to be on-site to obtain clear insights into the production process.
The option to monitor and analyse processes remotely simplifies organisation, provides employees with more freedom and ensures maximum flexibility.
Increased automation requires automated analysis of production process images.
With its high-resolution images and both simple and flexible integration into all IT environments, our camera system offers the best basis.
What sort of equipment
do you need?
The Rotoclear C2 is available in multiple equipment variants for a variety of applications. These variants differ in terms of the number of cameras used, the selection of focus, the length of the data cable and the form of camera attachment inside the machine tool.
Number of cameras
Focus
Data cable
Mount type
Number of cameras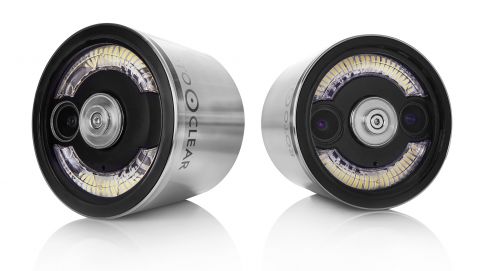 How many perspectives do you need? That's the central question when it comes to the decision about the number of camera heads to install in your C2 system.
We offer kits with one or two camera heads. The double kit allows you to observe your machining process from two different perspectives at the same time (e.g. top and tool view).
Focus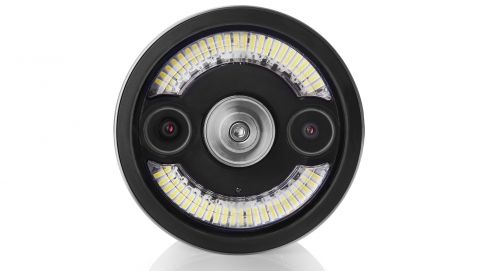 We have encapsulated the camera head to provide the best-possible protection from the harsh conditions inside the machine. This requires a preset focus.
You can choose between camera heads with different focus ranges for a variety of applications:
F1: Focus in close range (tool-view)
F2: Focus in far range (top/side view)
F1+2: Two lenses for close and far range
Selection of data cable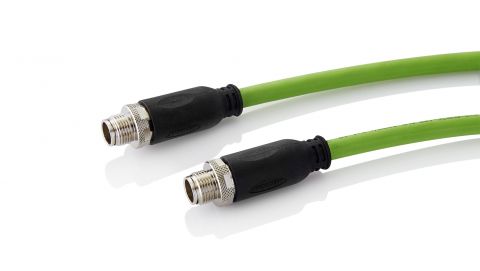 Our data cables ensure both fast and reliable data transmission. They're suitable for use with drag chains and specially developed for harsh conditions inside the machine tool.
For your kit, you can choose between a 10 m (standard) and 20 m data cable.
Selection of mount type
Regardless of what your machine looks like and where you would like to mount the cameras, Rotoclear offers you a whole host of mounting options.
Our flex arm mount is available for installation in sheet metal as well as for mounting on the wall or with magnetic attachment.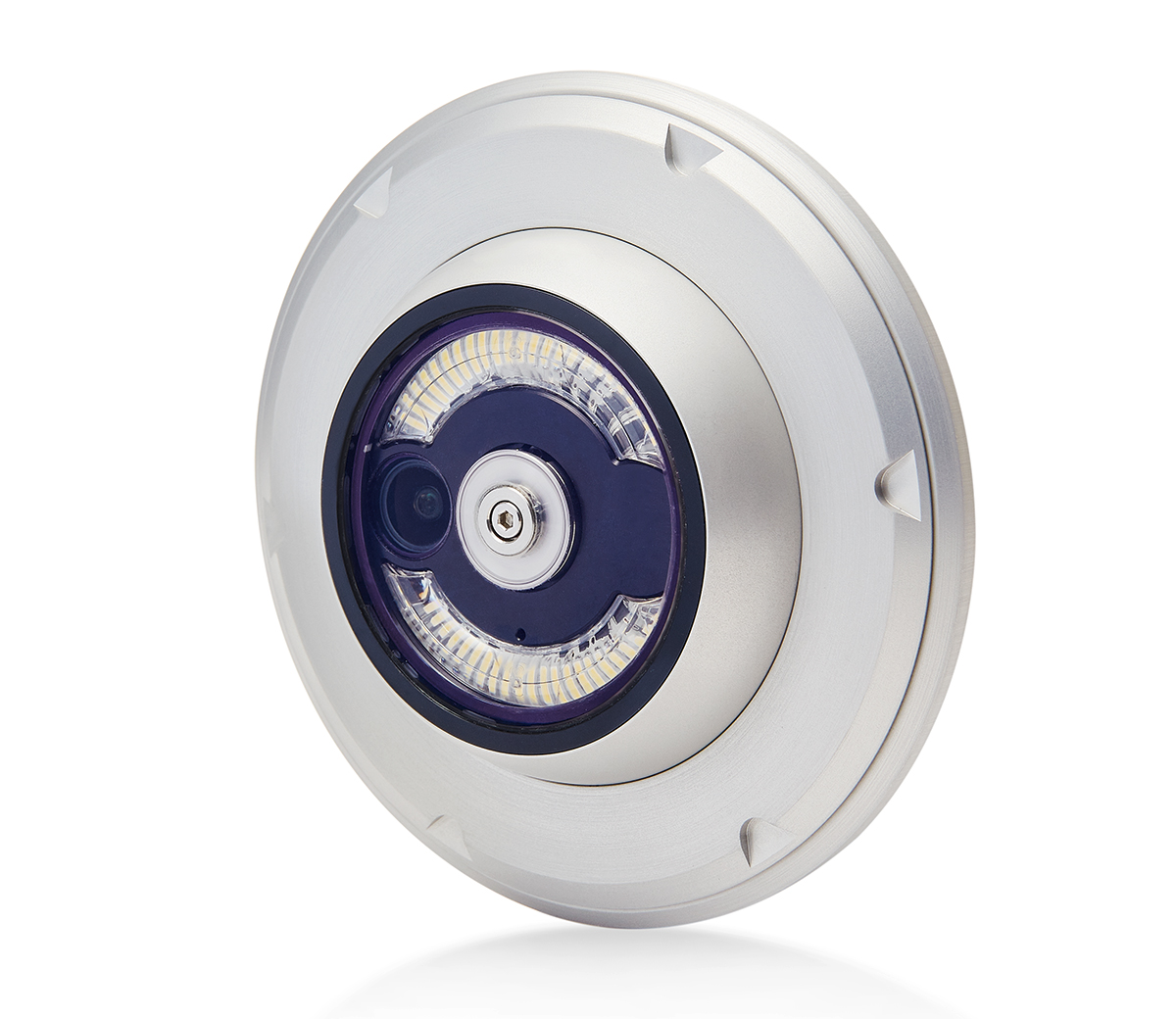 The ball mount surrounds the camera and can be installed directly in the machine wall. The benefit: interference contours are minimised, preventing to a large degree the accumulation of swarf.
Comparison:
Rotoclear C Basic vs. Rotoclear C2

For the first steps into the world of Rotoclear camera systems, we offer the Rotoclear C2 as well as the cost-effective Rotoclear C Basic. How the functionality of the Rotoclear C2 differs from the Rotoclear C Basic? Discover all the differences between the two systems.
Configure your optimal
C2 solution now.
Regardless of what your machine looks like and which requirements you have of your camera system, we can provide the perfect C2 kit for any application.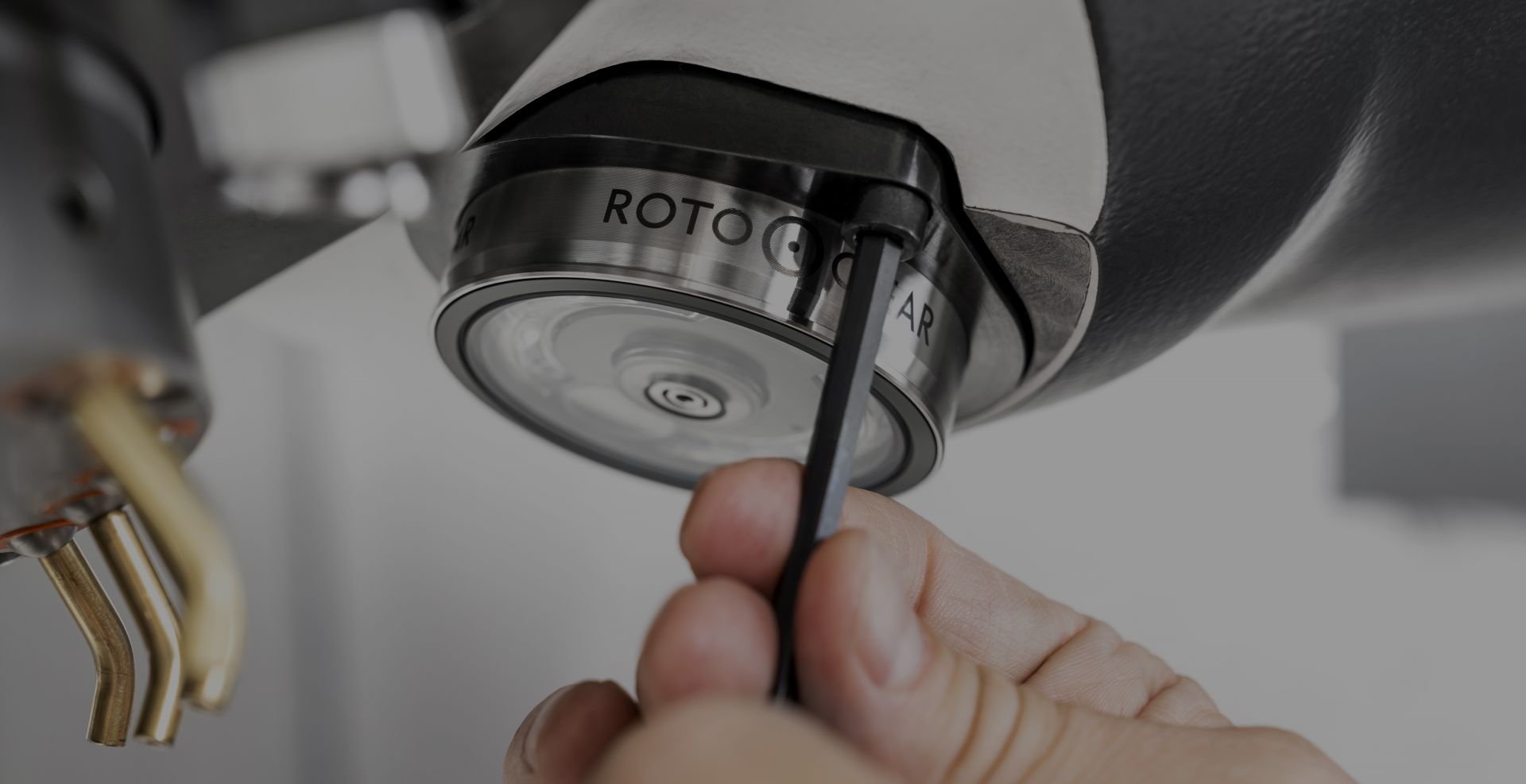 How to use:
Our downloads
Are you looking for detailed information or tips about optimal operation and maximum service life?
Our product brochure and our operating manual offer valuable answers to questions about the Rotoclear C2. Our latest Rotoclear C2 software brings you up to date.
But if you should have any other questions, you can, of course, contact us directly at any time.
Looking for spare parts?